Pros and Cons of Cash Buying
All-cash home purchases hit a record in the first quarter of 2014, reaching 43 percent, according to RealtyTrac, which has been tracking cash-buying trends since 2011.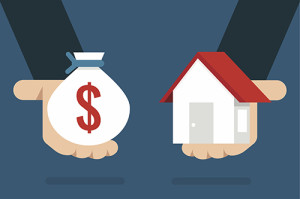 This latest figure represents a 19 percent rise from last year—a number industry watchers attribute to stricter mortgage qualification standards coupled with high buyer demand and competition. If you're thinking about buying your next home with cash, you might be wondering how this option stacks up against a mortgage—not to mention, how you'll come up with the money.
Why Cash? Pros & Cons
On the pro side, using cash lets you sidestep mortgage loan qualifications and much of the paperwork and administrative fees. This accelerates the buying process and makes you more attractive to sellers who are eager to close. You have better odds of out-competing other buyers and better leverage to negotiate a lower price. Finally, the prospect of not having to pay monthly mortgage obligations and interest is appealing.
On the other hand, the cash you tie up in your house won't be as readily available for emergency spending. This could place you in a position of needing to sell or mortgage your home in the event of an emergency, and convincing lenders to extend a mortgage or equity loan could be difficult if you lack a steady income, a situation many retirees face. One way to address this issue is opening a home-equity line of credit after you buy your home to make sure you have emergency funds available. A reverse mortgage can also help in a pinch.
Another issue is whether the amount you save on mortgage interest might be better invested. Buying a house with cash amounts to investing in a bond with an interest rate equivalent to what you would pay with a mortgage. Compare this interest rate with other investment options to evaluate how buying your home with cash affects your long-term savings.
Finding Funds
If you want to pay for your home with cash but don't have a lump sum handy, how do you find the money? Options include:
Realtor suggests a few strategies, including investing in a long-term CD, a method that can be combined with CD laddering if you don't want to lock up all your cash.
For current home owners, another option is refinancing your existing mortgage into a larger one, known as "cash-out refinancing." Zillow recommends weighing this option against others, such as home equity loans and lines of credit.
If you're receiving regular payments from an annuity or structured settlement, you may be able to sell all or a portion of your future payments to a financial services firm and put the money toward your home purchase.
What About Taxes?
Paying for your home in cash precludes the tax breaks you would get from your mortgage interest payments. Use the calculator at Mortgage101 to estimate the potential tax benefits of a mortgage so you can weigh this against buying with cash.